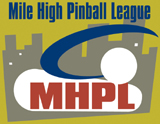 Mile High Pinball League (Season 26) >> Forming in the Spring!
For more information on the league, please email Adam Lefkoff (league president) or
Details...
Who: Players of all ages and abilities are welcome! Using a ranked ladder, you will compete against players of similar ability.

What: Weekly pinball competition with cash prizes and trophies for 1st through 4th place in "A" and "B" divisions!

You will play five matches against similarly-ranked opponents (grouping will be based on an average score, as determined by the number of weeks in attendance). Your overall ranking will be determined from the result.

Players who make all 10 weeks will drop their two lowest scores before adjusted average is calculated.

Make 9 weeks and you get to drop the single lowest score from your final average.

For 8 or fewer weeks, you will keep the same average that you finished with.

You must make at least 7 of the 10 weeks to be eligible for the finals tournament.

Where: All matches played at Lyons Classic Pinball.

When: League meets for 10 weeks on Thursdays at 7:30pm.

No league play on holidays or the week of scheduled LCP monthly pinball tournaments.

No make-up days and no player substitutions allowed.

How Much: $4 per week (including any weeks missed). $40 payment is due in full on Week 1.

Rules: A complete list of rules are available at LCP.
Season Schedule (TBD)
International Flipper Pinball Association - The weekly pinball league (and LCP monthly tournaments) are IFPA-sanctioned events. The league champion qualifies for an IFPA tournament with champions from other leagues and will represent the Mile High Pinball League in a battle to crown a single champion.
Physical address: 339-A Main Street, Lyons, CO 80540 | Mailing address: PO Box 1992, Lyons, CO 80540 | Phone: 303/823-6100 | e-mail:
All Graphics and Text © Lyons Classic Pinball
The pictures you see were created by Lyons Classic Pinball, unless otherwise noted.
Unauthorized use is strictly prohibited